Our Farm
Doesn't our farm look great in winter?
The pasture is a rich, growing green. The mature  Black Boxes provide habitat for native life and shelter for the sheep.  (Ok, the  sheep are missing!)  And it's just rained – see the rainbow!
Does 400 acres sound like a lot of farmland?  Not here! Northwest Victoria is semi-arid. Ours is a small farm, not big enough for us to 'live off'.
Our farm is on the Wimmera plains in northwest Victoria.  Warracknabeal is the nearest town  to where we live.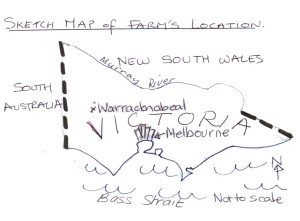 Our Family
Three people live on our small family farm.  We all help:
'Dad' does the farm work after work and at weekends and has a full time job off- farm.

'Mum'  is 'midwife' at lambing, does lots of weeding in paddocks,  other farm jobs as needed, and is an  environmental educator.
'Son' enjoyed learning about the farm as part of his 'home education' schooling and being a part of anything on it, especially taking sheep to the animal nursery at the local show. He now helps out with the jobs.
Continue on to separate pages for:the  food  we produce and some ways we care for the Earth – our land and its living things.
Photos and drawings by J. Clark (cc) 2014
Permission is given for this information to go on the family farms website by J. Clark 2014
last updated 11/2/2014