Hi! Welcome to this website about family farmers and their farms, begun in 2014 to show the diversity of family farmers 'Feeding the World, Caring for the Earth' by a collection of first hand experiences (snapshots) as an educational resource for anywhere in the world.
The concept of this comes from the

  International Year of Family Farming (IYFF) *  and continues on beyond it. Soils was already a part of the snapshots, so this resource will contribute to the 2015 IY Soils and enviroed's soil website.

The IYFF is now the IYFF+10 – the continuation of promoting awareness of family farming (FF) and its benefits and challenges to the world. The FF snapshots project continues as part of that, hopefully inspiring readers with lovely farms and food from as many different locations as possible, while growing this educational resource on FF's for anyone to be able to use.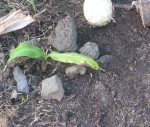 The latest from Samoa is about an extended family garden with the guide and farmer being a youngster in the 2.4 MB pdf Sa'anapuSamoa
Who is family farming?
People like my family, the world over, who:
live on a 'farm' – place where food is grown, can be rural or urban, size doesn't matter,
work it as a family,
grow or catch food and/fibre for the 'world', including themselves
care for their patch of Earth.
Globally, family farmers are important for:
food security,
contributing to their national economy
and caring for the environment.
(Read more about family farmer definitions and importance below.#)
What are the snapshots ?

First hand experiences of family farming showing how the land and its produce helps to Feed the world and the farming methods that help to Care for the Earth.
This website aims to have lots of different 'snapshots' about family farms  to help raise the awareness of family farming across the world. It is also aimed to be a resource for anywhere in the world, so I am trying to keep to simple technology, that will be quicker to load, e.g. no vidoes.
From 2014, I have 29 wonderful farming families,  to thank for inspiring snapshots that show some of the regional and global diversity in family farming:
They

come from

the Wimmera (my region), Victoria, some other parts of Australia, Samoa, France and Canada, with :

rural (19, from Australia, Canada, France and Samoa)
and urban (10, from Wimmera small towns to the big city in Melbourne).

Their

range in size

from large broad-acre farms, down to small plots/kitchen gardens/backyard veggie patches as urban farms.
There are

full-time

farming families and those for whom food growing is recreational.
They use

different methods

of growing foods, including adaptations to limited backyards, the semi-arid Wimmera, the mountains of France, volcanic soils of Samoa, and the cold of the Yukon.
What do they have in commmon?
pride

in the food they grow and the way they do it, especially improvements in methods and produce

enjoyment

of foods they grow for their own use

awareness

that food grown at home is contributing to caring for the earth though its low food miles/greenhouse gasses and thus adapting to climate change,

setting up

many other benefits related to each experience.
Moving into 2015
Many of you had not heard the term 'family farmers' at the start of 2014, but now understand that your feeding your family is contributing to the world's food security and caring for your patch of Earth is also keeping low food miles – an action against climate changes.
So, I will continue to seek contributions from all sorts of family farmers, and people who know them, from around the world to grow this resource! So, if  you are part of a family farm, please contribute a snapshot.  The Join us page has a pdf of instructions on what to email me.
So my vision? Listen my podcast interview from ABC regional radio about what the IYFF can be about and how you could get involved in this website. Later in the year, I was interviewed on Bush Telegraph about the website.
I plan to maintain this website for at least a couple of years, so that it remains as a global resource on family farming, if there is as great a diversity as I hope the family farmers of the world will support it with.
What if you're not a family farmer? Please return to discover family farm snapshots as this website is built and get to know us.
# One challenge I found with  seeking contributions in 2014, was that many people did not know what family farming was and the support family farmers need. Urban family farmers especially were delighted to find they were engaged in a type of farming, not just 'gardeners' , especially the smiles that came on such long-term gardener/ farmers as they made the mental shift to being part of this body of food producers.
In February 2014, the World Rural Forum meeting at Abu Dhabi released a 'statement' with 5 issues for the sustainability of family farming into the future.
Read a more detailed definition from the family farming campaign or in a pdf from  Food and Agricultural Organisation of the United Nations,  IYFF brochure
This website is also linked to my enviroed4all website  where there are already photos and resources about biodiversity on our farm and sustainability to explore.
*IYFF is under the United Nations Food and Agricultural Organisation (FAO) and the World Rural Forum (WRF).  This website is now a link for educational purposes on the IYFF- WRF family farming campaign.  So please help it grow and be used well.
Donate to support this website's further development
And a  final note, my work as a freelance environmental educator creating this website is unfunded and all voluntary.  I do need financial support for this project, but have been unable to find it.  So if you find the resources useful, and/or would like to encourage me to keep going,  please donate to me (button above) and/or send me a message to say how you have used these resources.  Thankyou in anticipation.
last updated 29/5/2015