This page contains links to meanings  of sustainability in farming and  to the 2012-2014 Wimmera HUB project with Science-based picture books to use with children.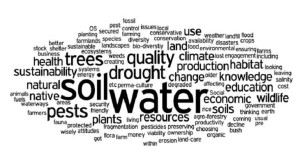 What does sustainability in farming involve?
Lots of things, sometimes different wordings! Read my collection of definitions at  Sustainability in Farming!  Interview people yourself or with your class, with an interview sheet provided.  Read reports on definitions from children's interviews of farmers in their community at a small rural school at Hopetoun.
Read this Sust in farming survey report  (304 kb)  on three word clouds from surveys of 30 educators about sustainability and its issues. The first is made from definitions of sustainability.  The second is of their issues for sustainability and the third of their issues for farming sustainably.
Wimmera HUB -SPP "Sustainability and our Farmlands Environments"
The books and discussions sheets on this theme are ready to use on this page 
The Project
Wimmera HUB received funding from the Department of Education and Early Childhood Development for a 2012-2014 Strategic Partnership Project (SPP) – The 'Lower Wimmera Environmental Education Project' –  to focus on PD for small rural primary schools near Warracknabeal.  Seeing a need for sustainability to be related to our rural environment, the LWEEP developed Sustainability and our Farmlands Environments as its umbrella theme linking the projects in schools, as mainly in-class teacher PD. New and unique resources have been created from this in partnership with Wimmera HUB, DEECD, the schools and enviroed4all.    Read the Wimmera HUB SPP PD aims for teachers.
Semester 1-2  2012–  major project  "Sustainability and our Farming Environment" 

Semester 2 2012–   National Science Week sessions – 'Sustainability in our Wimmera Farmlands'
Semester 1 -2 2013 – major project '20th Century Australian Science, Changing life on our farmlands 

Semester 2 2013 – Sustainability and Farmlands sessions
Semester 1, 2014 – major project
Y5-6 teacher PD 10- session program at Rainbow Primary School with focus on plant science has completed. Their books will be added to this on-line resource when available
Key resources to be produced –
Semester 1- 2, 2014  Sustainability and Farmlands

1 teacher PD at Greening Australia's Melbourne 2014 Toolbox for Enviornmental Change on the Sustainability and our Farmland Environment using 2012 and 2013 sets of above resources in s1
2 aim to provide Teacher PD sessions in clusters to train in using the three sets of resources  in s2
page last updated 8/8/2014