Welcome to IYFF+10 family farms snapshots – here for you to discover their diversity in the world, now in the decade continuing on from the 2014 International Year of Soils.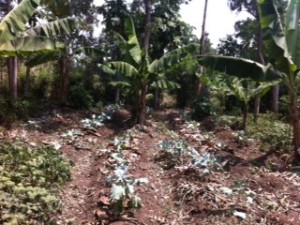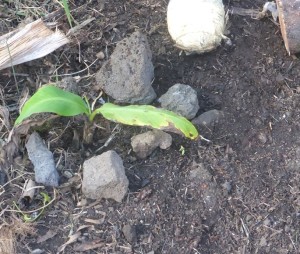 The latest additions are both great examples for the World Environment Day 2015 theme:  from Samoa- "Growing food as a family for our family"  and Kenya – "Married to my food forest." Suggestions for curriculum Links  to use these for 2015 WED theme "Seven Billion Dreams. One planet. Consume with Care." can be found in the World Environment Day section of the teaching page.
From a rural village the  island of Upolu, Samoa, a youngster confidently shares what he has already learnt much about growing food from his father in this 2.4 Mb pdf Sa'anapuSamoa  Discover how to plant and grow, cook and feast traditional plant foods – especially  talo, and fa'i – on their volcanic soils. Notice how food consumption from here uses so many natural materials and so is a great example of consuming with care. 
From a rural village on Lake Victoria in Kenya on Mfangango Island, a permaculture farmer, father, and teacher, enthusiastically shares his farm and farm-based community work at Olambo's Organic Paradise Farm in this 2.8 Mb pdf Foodforest-Kenya .  There are not only choices of plants to grow in layers of a food forest by issues of erosion, waterlogging and weeds to be managed and improved. Notice also how much care is taken of his environment in producing the food that this family and its community consume. 
This website will continue on growing the collection with more family farm snapshots in 2015 – I have some in production already and hope you can help me by suggesting more farms to add to the diversity.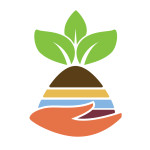 With soils being mentioned by most snapshots in the Caring for the Earth section, this website will contribute to the  2015 International Year of Soils.
 IYFF- Feeding the World, Caring for the Earth
IAFA – Nourrir le Monde, Soigner la Planète
Continue on below for more snapshots from France, Canada, Samoa and Australia, especially the Wimmera and eastern Melbourne …. I'm still looking for more to capture more diversity still for this educational resource.

This page has the latest addition at the top with the list of snapshots below. (See how to use this page.) Thank you to every one of these family farmers – part-time, full-time, rural, urban, whatever your scale – for working with me as volunteers on this project.
Can you help me source first hand experiences of family farming from other parts of Australia and the world ? if so, please use the FFsnapshot submission guidelines8 pdf
Hear the podcast about the idea for this site at ABC radio and at this Bush Telegraph podcast
Family Farms Snapshot List
This list of first hand experiences of family farming (snapshots) is grouped by Geographic regions, and sub-groups of urban and rural. Here is "how to use this page" .
Wimmera
urban /kitchen/ backyard farmily farming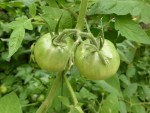 Grosse Lisse tomatoes are the focus of this snapshot, but there is also herbs in this urban garden, enjoyed by the 80's+ couple. Download a 2.1MB pdf   Stillearningat80-Warracknabeal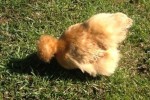 Eggs from the Silky hens, vegetables and herbs from the tubs and fruit trees in the backyard fill this town backyard farmily farm, providing yummy meals for the lady family farmer. Download a 1.15 MB pdf 3hens&foodplants-Dimboola

Two tubs of mint in this tiny suburban 'farm', still of great value to their farmer for some fresh food, enhancing meals, with no food miles, out the back door. Download a O.7 MB pdf mint-tubs-horsham.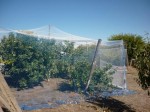 Vegetables and fruit in a Town Food Garden, Jeparit by an 80 yr old family farmer who used to live on a crop and stock farm out of town,- Download a 593kb pdf town food garden Jeparit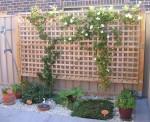 Flowers, herbs, vegetables and citrus grace this tiny suburban backyard garden, Horsham, of a part-time senior lady family farmer. Here the food production is integrated into an artistic design, showing what careful planning, and use of pots can do for aesthetics, while growing fresh food, especially herbs, out the back door. Download a 657 km pdf herbpots-Horsham
Two large citrus trees dominate this small suburban backyard garden, Horsham, and shelter a small plot for a couple of vegetables and herbs. In May, the lemon tree is j and a new crop of lemons is on the way, as is the new silver beet. Download a 1.3MB pdf littlefoodgarden-Horsham
Ballistic Zucchinis and other vegetables and herbs in an urban backyard, Horsham, producing yummy foods last summer – download a 423kb pdf zucchinisHorsham
Rural Family Farming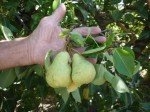 Well established farmers garden with fruit trees and vegetables on a Crop and Livestock farm, Jeparit, – Download a 1.4 Mb pdf Crops & Livestock Jeparit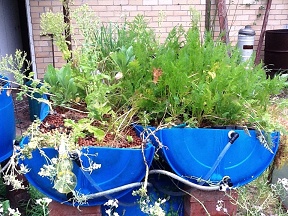 The Garden of Earthy Treasures is a small diverse intensive rural farm on the semi-arid Wimmera plains, producing fish, poultry, fruit, vegetables, herbs, and bush foods through xeriscaping – minimal water use techniques combined with permaculture principals with self-sufficiency as its aim and a seed bank for heritage trees and heirloom vegetables. Download a 1.9 MB pdf,gdnearthytreas-Dimboola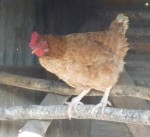 Vegetables, fruit and eggs from a 60 year old rural farm garden , on the Wimmera plains, by family farmers in their 80s, Download a 1.1 MB pdf 60yrfamilyfarming-Wimmera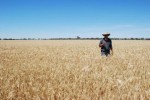 Broad-acre crops (cereals, legumes and oil-seeds) and livestock is the Primary Production, at this rural Bangerang farm that has been in this family's production since settlement. Download a 1 Mb pdf Primary Production Bangerang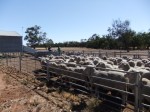 Producing broad-acre crops (cereals, legumes and oil-seeds) and livestock (sheep) mainly for sale near and far and vegetables, fruits and herbs in the home garden for the family use, keeps this farming family busy and the children involved. Download a 894 Kb pdf foods-from-Batchica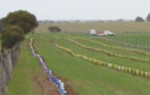 On a small family farm, this family grows some eggs, vegetables and other foods in their backyard, 'share-farms' out their large paddocks to another farmer to produce legumes and cereals for the world (and uses some themselves) , and runs two non-farming businesses on their farmland. Download a 2.7 Mb pdf new-ways-Jeparit
a small Texel sheep farm, Warracknabeal –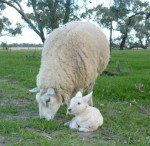 Download a 342 kb pdf summary IYFF our family farmer example or view as Texels Warracknabeal, the family and farm, production and sustainability
other Victoria
Rural Family Farming
A small vegetable farm in the Central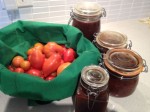 Highlands of Victoria near Ballarat, is a valued place for children to learn about growing foods within a family and to see sharing of foods in the community through local farmer' markets and permaculture groups. Download a 2.56 Mb pdf Happy-family-farming-Ballarat
"W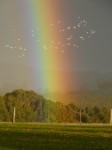 ith Trees come the birds" is about beautiful grazing and timber farm near the Otways Ranges in southern Victoria. Over 25 years, trees have been planted attracting a wide range of birds. As well as the native biodiversity, this farm has a huge range of food plant biodiversity. Download a 2.34 MB pdf trees&birds-Otways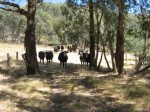 Beef cattle and almonds in the foothills of the Great Dividing Range, North East Victoria, – Download a 524 kb pdf GrazingNEVic or view as Grazing North East Victoria the family and farm, production and sustainability.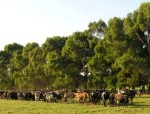 On this dairy family farm, the family has rehabitilated eroded gullies and value-added on-farm with cheese-making and farm visits to educate children in agriculture in the south of Victoria, near the Twelve Apostles. Download a 1.5 Mb pdf cowstocheese-swVic
urban /kitchen/ backyard farmily farming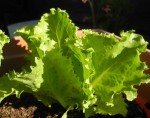 This "itsy bitsy' part-time suburban family farm producing mixed vegetables, fruit and herbs in a third of its backyard in outer eastern Melbourne . The journey begins with a couple of lettuces in pots and is up to enough fresh food and seedlings to share in fundraising! Download a 1.79 MB pdf itsybitsy-Croydon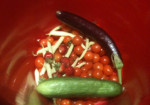 In this suburban backyard food garden, family and friends farm over 30 different vegetables, fruits and herbs for their fresh food and recreation. The challenge is keeping the balance between sunlight needed for growth and habitat in tree foliage. Download a 1.5 MB pdf treedhouse-GlenWaverley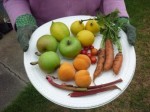 Vegetables and fruit trees growing in 50 year old suburban garden , in Box Hill, by a mid-80s lady family farmer, Download a 1.76 Mb pdf 50yeargarden-Box Hill
'For the Kouzina' brings a Greek flavour and plant vocabulary to the snapshot collection. From a 40 year old suburban garden in Box Hill, the Greek mum, grows the foods she uses –fruits, vegetable and herbs – in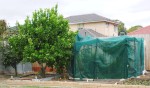 her cooking in her Kouzina. Food reflects culture! The snapshot also contains a challenge unique to a suburban family farm- balls landing on plants from the neighbours!Download a 950 kb pdf for-Greek-Kouzina-BoxHill
Australia
Rural Family Farming
"Settling a farmlet", on the Darling Downs, Queensland, is a small part-time semi-rural family farm being established on former cleared  grazing land.  Food for the couple is already coming from a couple of fruit trees, several vegetables in a fenced patch and  eggs from ISA Brown hens, while native plants have been put in to attract birds and other animals back to the landscape.  Download a 1.83 Mb pdf settlingfarmlet-HighfieldsQld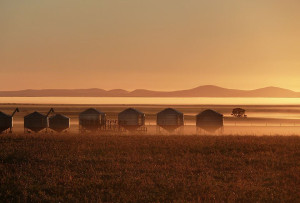 Life on the Hill, Poochera, South Australia, is a tribute to a traditional full-time cereal-sheep family farm (and home food garden), caring for soils with a 2 year rotation and sheep on fallow, enjoying remnant Mallee habitat and wonderful wide sky views to the Gawler Ranges. Recently, when the family left this large farm, they took with them a love of Nature learnt here and became urban family farmers.  Download a 1.12 MB pdf lilfeonhill-Poochera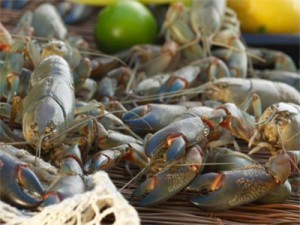 Cambinata Yabbies, Kukerin, West Australia, is a mixed  broad-acre farm which has diversified over several decades into yabbies and on-farm processing value-adding, providing off-farm marketing around the country and world, and farm-based businesses in gourmet food products, and tourism. Downoad a 2.1Mb pdf crops&yabbies-KukerinWA
Ecobotanica, South East Queensland is a new mixed vegetable, fruit and herb family farm, which includes native bees, set up on a permaculture basis, sharing knowledge from this base.  Download a 1.4 Mb pdf ecobotanica familyfarm
GLOBAL
Rural Family Farming
France – Savoie  (versions in Francais, and English)
S'inspirer de notre nature pour créer un jardin familial alpin et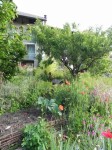 collinéen avec des pratiques simples et respectueuses. Le "jardin de la Koute à Tyon" est une petite ferme familiale située en Savoie – France. Ici, on s'appuie sur l'observation des milieux et espèces présentes, les essais et l'utilisation de techniques culturales proche d'une alpino-permaculture pour produire les légumes, les fruits, les plantes aromatiques et officinales. Pour lire ce snapshot, cliquez sur ce lien de 2.15 MB Koute-Tyon-Arvillard-Fr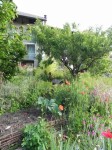 Reclaiming hilly land for cultivation, using traditional techniques and plants, the Tyon Koute is an amazing story of family farming from Arvillard in the Savoie of Franceproducing vegetables, fruits, herbs and medicinal plants. Download this 2.1 MB pdf alpinopermaculture-KouteArvillard-FrvEng
Canada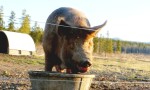 Mixed family farm in Yukon, Canada, producing certified organic meats, eggs, vegetables and preserves, soaps and textiles. Sold by farm-gate, on-line and at farmers' markets. Involved in experimentation and many community organisations to promote local agriculture and care of the environment. Aims to be sustainable, functional and reasonable. Download a 2.23 Mb pdf Food&feedAurora-Yukon
Mix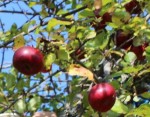 ed family farm in Nova Scotia, Canada has fed a large family and shared excess through farmers' markets and supporting the Larch community group through its red apple harvest. Read the 1 mb pdf redapples+Canada
Kenya
A committed and creative family farmer on an island on Lake Victoria , produces a mixture of indigenous and introduced plants and stock, while tackling food security, erosion, leaching, poor drainage, the dry  season and loss of tradtional and changing farming ways, through planning under  traditional and permaculture principals, application, teaching and a variety of innovative community programs.  Be inspired and challenged by the amazing projects and production of the food- forest at Olambo's Organic Paradise Farm in this 2.8 Mb pdf Foodforest-Kenya
Samoa – Upolu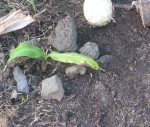 Family food gardens feed extended families on the island of Upolu in Samoa. Take this tour of one on volcanic soils at Sa'anapu Uta led by a boy gardener  who shares the foods, how they are grown and cooked for a feast. The focus is on talo and fa'i  and pigs in the 2.4 mb pdf Sa'anapuSamoa
Samoa's soils and climate are great for the organic growing of foods. This snapshot is from the island of Upolu, where the family farms customary (traditional) land (fanuafaa) with a mixed food garden including island staples (like talo, tamuu, fai, niu and ulu), a range of vegetables and pigs and hens. Enjoy the richness of the greens and meals in this 2 Mb pdf organic-Fanuafaa-samoa
As a freelance environmental educator, my work in creating these activities and this website is unfunded. So if you can, please support me…with a donation and/or sharing with me how these activities went when you used them. Thanking you in anticipation…
last updated 5/6/2015