What does our grazing farm produce?
Cattle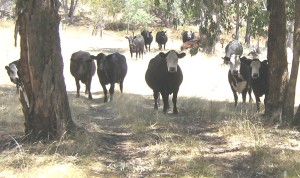 We run cattle – black and white ones.
Our beef cattle are sent to market in Wangaratta, Shepparton or Corowa [depending on sale prices] once or twice a year. They end up in the slaughter yards or on another farm where the steers grow to a marketable size for butchers.
And sheep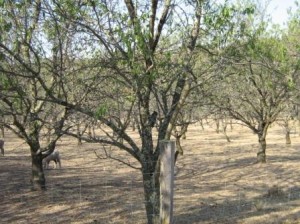 We also run sheep.  They are sometimes found in the orchards, eating the grass, saving us from mowing it.
Can you see one of the flock under the trees in this photo?
Each spring the sheep are shorn and their wool is sent into the wool store at Benalla and then to Melbourne.  Depending on its fineness, it may be sold to companies around the world who produce fine woollen fabric.
And more for our use
We slaughter some sheep for our meat; the remainder are sent to local markets.
Our hens provide eggs.
Our orchard has fruit trees, such as citrus and stone fruit.  We share the excess fruit with our friends.
Our berry canes produce enough fruit to make plenty of yummy jam for the family each year.
Our nut orchard has 200 almond and hazelnut trees. We collect the nuts the birds leave for us for eating or in cooking.
Continue to Grazing northeast Victoria for farm and family,  food, and care, or return to Farming Families Snapshots to choose another farm to explore.
Photos by C. White  (cc) 2014  .
Permission is given for this information to go on the family farms website by C. White  2014
page last updated 24/2/2014