This page explores what  the Earth and caring for it can mean, on a farmland. It then uses our Black Box woodland on our farm to describe some of the biodiversity that can be found, and provides some activities to learn about this.
What does 'the Earth' mean on a farm? 
Not just the paddocks! Think about the farm gardens.  What makes up 'the Earth' in my drawing of our garden? Some living things in  our backyard – and the soil, water and air. Together they make up the 'Earth' of our farm, or any place, – its environment.
Lots of plants and creatures live on farms – from the very tiny to very large in size. Some are native, others domestic, some useful, and some weeds and pests.
The 'Earth' has lots of bits on a farm we can care for!
What does 'caring for the Earth' mean?
No part of the farm operates alone. It is about a whole enviroment. Farmers care for their environment so it can keep making food and fibre, long into the future- that's the basic idea of sustainability.
Our biggest challenge is when droughts occur.
Discover some stories about problems with dry times on farms  written by farm children at St Joseph's PS Hopetoun, in the pdfs 'One Summer' and "Water that saves' under the Wimmera HUB-SPP in 2012.

Keeping  a place good for living things to continue to live there is one way of caring for native plants and creatures of a patch of Earth. This is another part of sustainability.  It is part of the idea of 'living in harmony with Nature' – the aim of the United Nations Decade of Biodiversity 2011-2020.
In a Black Box Woodland
Part of our farmland is on Black Box Woodland – the old trees in the photos.   Black Boxes are good 'honey' trees. They attract bees. Bees pollinate flowers, so they will grow more – vegies, fruits, crops, and garden flowers.
(Discover how to recognise this great tree  from Black Boxes.)
Native living things of a Black Box Woodland on our farm are: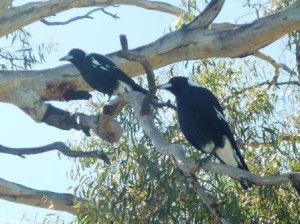 Photos to the right show Magpies in the Yellow Gum, Echinda climbing over Black Box dropped branch,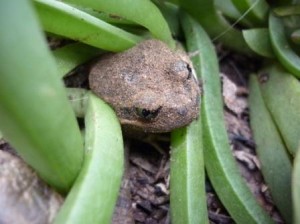 and Mallee Spadefoot frog in the Pig Face, and far below right, Goanna climbing up Yellow Gum.
There may also be introduced living things :
Photo to the right shows European Honey Bees in South African Cape Tulip.
Activities:
Some ways we 'care for the Earth'

Continue to Texels Warracknabeal for farm and family, food, and care,  or return to family farm snapshots to choose another farm to visit.

Photos and drawings by J. Clark (cc) 2014  .  For more information contact me by email.
Permission is given for this information to go on the family farms website by J. Clark 2014
last update 10/5/2014